The Challenge
A full-day summit took place at Toronto's Mars Discovery District with a mix of 70+ leaders from across sectors, including students, educators, academics, public servants and elected officials. They gathered to address the following challenge:
How might a large network of industry, educational institutions, and policy makers collaborate to bridge the digital education and skills divide?
The summit included a keynote speaker, expert panels and two interactive discussion sessions led by our expert facilitators.

What We Did
The 70+ participants who we were to engage in the interactive discussions had very diverse sets of knowledge and experience. The key objective was to have each person own the call for individual and collective action.
After meeting with the summit organizers, we designed a draft agenda for the interactive discussion sessions. Anticipating that people would work in groups of three, we rented an iPad for each group and programmed the interactive exercises into the Stormz Platform. Stormz is our favourite digital facilitation tool for harnessing the collective intelligence of any size group.
How we knew we could count on the tech to work
We know from experience that you can't always rely on a venue's WiFi, especially for real-time collaboration of 70+ participants. With this in mind, we brought in the StormzBox: a secure and local server in a box. Using this technology we ensured that all inputs were displayed in real time on the large screens while also ensuring that all data was kept confidential and off the cloud.
Our Detailed Approach
Our facilitation approach was to host two Breakout Sessions and an "Open Space" for wishful thinking. For the formal breakouts, audience participants were asked to assemble into teams of three, as triads are the strongest structure for group collaboration. Each triad was given a pre-loaded iPad with a customized workshop flow.
Breakout Session 1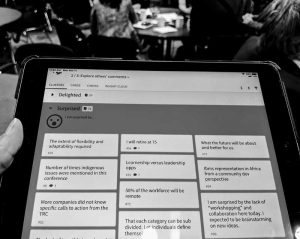 In the first breakout session, after listening to the morning keynote on the Future of Work, and the panel on Inclusive Innovation, we asked participants to go through three steps:
STEP ONE: SURPRISED, DELIGHTED, CONCERNED
Introduce yourselves to each other.
Reflect on the keynote and the panel discussion using the following prompts. Enter your response into Stormz:
What surprised you?
What delighted you?
What concerns came up for you?
STEP TWO: EXPLORE OTHERS' COMMENTS
In Stormz, have a look at everyone's contributions.
If you see a card that you agree with or want to comment on, click on that card.
STEP THREE: DISCOVER THE RESULTS
Facilitator does a room-wide share in Stormz of the responses with the most votes.
Open Discussion.
Open Space
Between the breakout sessions, we set up an Open Space in Stormz and invited participants to populate the "Wishful Thinking" space.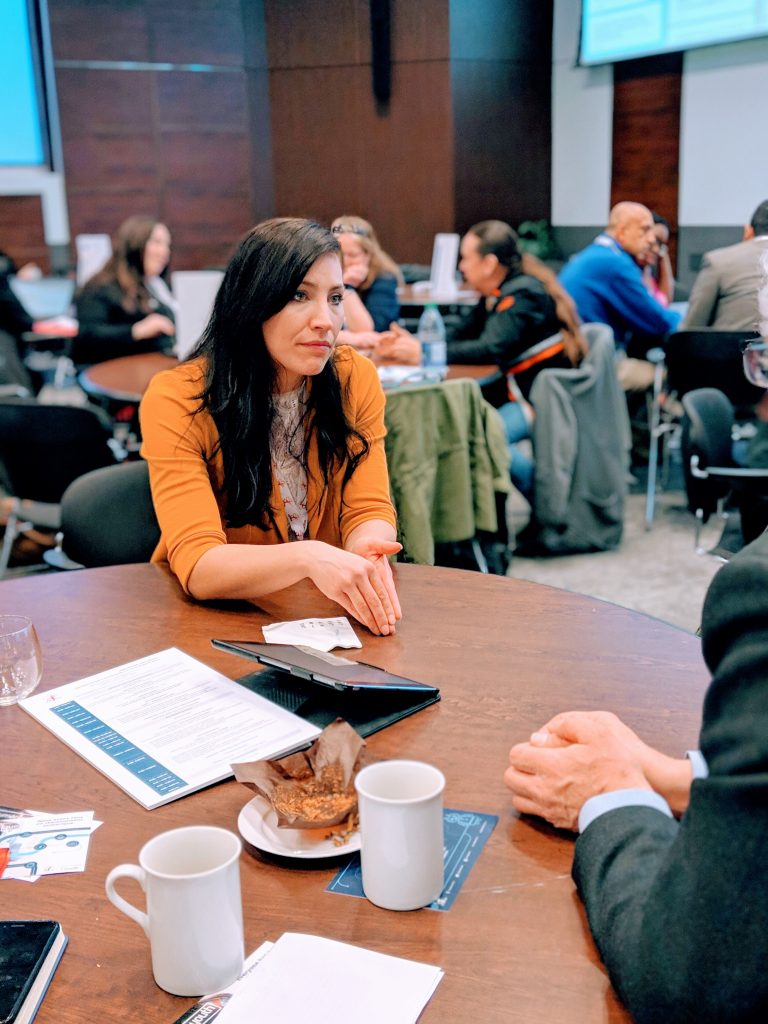 There were three possible categories for this:
What do you wish could happen in the short term (within the next year or 2)?
What do you wish could happen in the medium term (within the next 3 to 5 years)?
What do you wish could happen in the long term (in 6 or more years)?
Breakout Session 2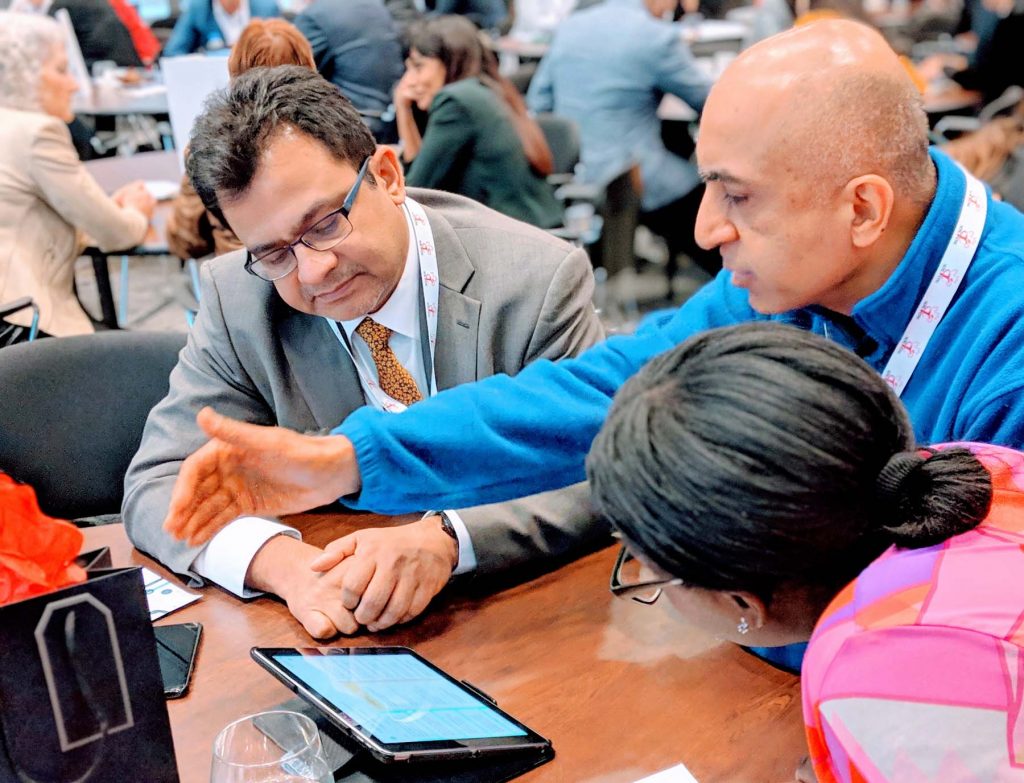 We invited participants to switch into new triads to change the energy in the room and to invite new networking opportunities. After hearing the Next Gen Education and Future of Work panels, participants went through a final brainstorm of Take-aways, Strategies and Actions.
We gave participants the following prompts:
ONE: ACTION-ORIENTED BRAINSTORM
Our hope is that today's presentations and discussions are inspiring you to help Canada be prepared for the future of work. Please reflect in your triads and share your ideas in Stormz on the following challenge questions:
What are all the ideas, data points or nuggets that you are taking with you from today?
What are all the steps or actions that you are inspired to take after today?
What might we all do collaboratively to help Canada prepare for the future of work?
TWO: DISCOVER THE RESULTS
Facilitator does a room-wide share in Stormz of the responses.
THREE: POSTCARDS & CLOSING
Each triad was invited to take a selfie and create a postcard in Stormz to those who had missed the Summit.
The Results!
The results were three-fold:
Participants were truly engaged in forward-thinking conversations and action planning. Their time spent at the summit and their diversity of expertise and knowledge were put to good use.
A comprehensive report was produced, including the highlights of all the conversations that took place in triads. The organizers will be sharing the final report with all participants as well as using it to strengthen and inform policy recommendations.
Quantifiable results:
25 triads in Breakout Session 1 generated:

31 statements of "surprise"
39 statements of "delight"
40 statements of "concern"

In the Open Space, participants generated:

20 short term "wishes"
18 medium term "wishes"
16 long term "wishes"

7 triads in Breakout Session 2 generated:

16 ideas, data points or nuggets
17 individual steps or actions
14 collaborative actions

Additionally, we gathered:

6 closing postcards
6 statements of anonymous feedback
Participant Quotes:
"I love the use of new digital tools to help us collaborate."
"Today was a great opportunity to collaborate across industries and sectors and explore how we can adapt to meet the needs of tomorrow."
"This kind of thing is what we need more of, except I want to see responses from many more people, especially in industry."
"I think the cards with the most votes are clear priorities, but there is more nuance to it. We need more time for that nuance."
"FIRES WERE LIT!"
"Great day, lots of insight! Collaboration equals opportunities. Had a chance to meet people from all over the country. The future looks hopeful!"