As we look forward to the world opening up again to in-person meetings, we're seeing virtual events morph into a hybrid format. And for good reason; there are many benefits of hybrid events.
What are hybrid meetings and events?
Hybrid meetings provide participants with options on how, when and where they want to attend. Whereas virtual events mean that people join via a device (e.g., cellphone, tablet, laptop, virtual reality) and in-person meetings mean that people join together in a physical location, hybrid events give people the option to join either way.
Benefits of hybrid events
Here are just five benefits of hybrid events.
1. Hybrid Meetings allow greater attendance.
Clients are finding that attendance at the virtual version of their in-person conferences and meetings is higher than in previous years. As a result, they are reluctant to return to the days when sharing with colleagues and peers in learning and dialogue was dependent on the physical location, budget and time availability.
Moreover, virtual meetings have greater reach. Virtual fundraising events have been quite successful, raising as much if not more for organizations than in previous years. Through live streaming, special virtual access to celebrity guests, and a guest list that can extend across the country and world, non-profit organizations are exceeding their fundraising expectations.
A benefit of hybrid events is that meeting organizers can maintain their virtual reach by integrating the virtual component of their event or training with the in-person event. Doing so maintains the reach they enjoyed as a result of going virtual.
2. Hate traveling? No travel budget? No worries.
Traveling to conferences is expensive, time-consuming, takes time away from other priorities, and in today's environment, presents a genuine health risk! Those who have conference fees and travel covered by their employers are fortunate, indeed! Attendance at in-person training sessions is restricted by a company's travel budget; if there's a budget for twenty participants, then only twenty get to go.
Access to events exploded during the pandemic as conferences opened their virtual doors to anyone who wanted to attend. With the reduction in meeting expenses (just the price of the coffee break can be a budget-buster for event planners!), some organizations were able to reduce or eliminate conference fees, making their events more accessible than ever.
Fortunately, due to their virtual component, conferences and training can accommodate both those who can travel to the in-person venue and those who can't. Hybrid meetings can also have multiple in-person venues; rather than gathering 200 people in one conference space, how about four local spaces with 50 people each, all linked together via technology? Those who don't want to fly to a conference might be willing to drive for an hour or two. While involving multiple venues with people joining virtually presents a facilitation challenge, in our mind, virtual is virtual. Once you are combining one in-person venue with virtual participation, it's not a big leap to add multiple in-person venues.
We've also seen training programs realizing the benefits of being virtual. Money once spent on travel, food and accommodation is being redirected to offering courses more frequently and opening them to staff who wouldn't otherwise be able to attend. The diversity of people in attendance has increased markedly, meaning richer conversations, more varied input, and increased ideation. We're also seeing opportunities open up to delivering courses in other countries; where once it was a major undertaking to bring people together in another country, now it's just a Zoom link and the need for the facilitators to get up earlier (or stay up later!).
3. Greener meetings
Virtual meetings have a lower carbon footprint. The carbon footprint is not zero﹘think of the electricity involved in a data download!—but it's much smaller. A recent study showed that the flights alone would have generated 66 times more emissions than the 6-hour Zoom meeting that replaced the in-person conference.
Organizations that want to reduce their carbon footprint can make a big difference by continuing to offer a virtual component to their meetings. As mentioned above, hybrid meetings can involve multiple in-person venues. Offer local venues that people can travel to by greener means, such as train or public transportation, rather than planes or cars.
4. Tap into more people for better results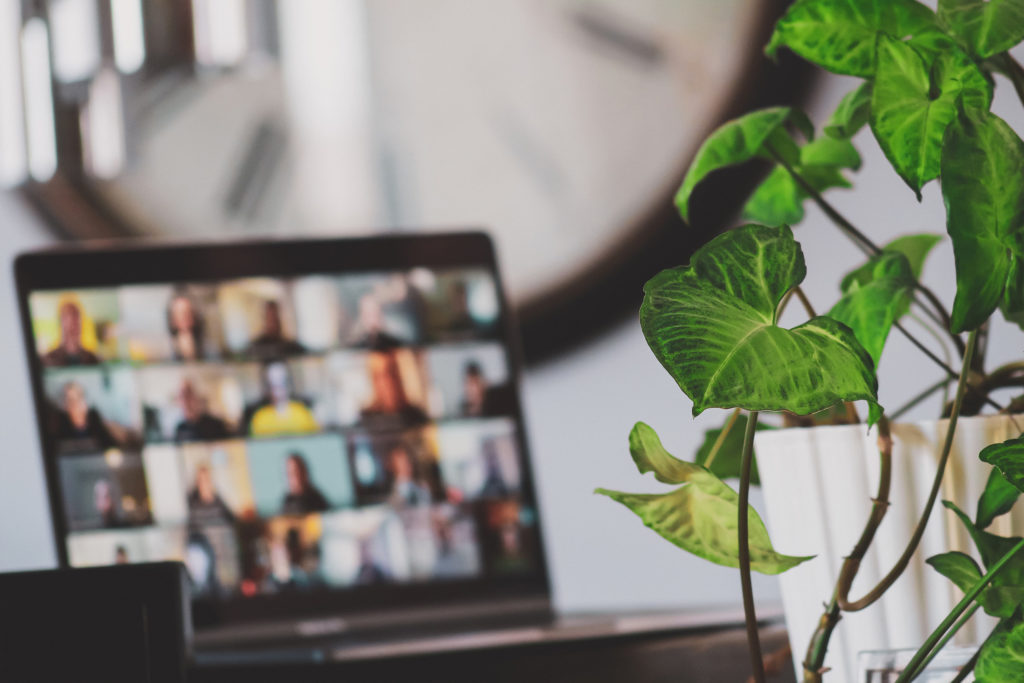 Virtual meetings lend themselves to greater opportunities for ideation. For example, digital facilitation tools used to replace flipcharts and sticky notes offer anonymity to people who might otherwise be reluctant to express their ideas in front of their peers. Tools such as Stormz allow people to type their ideas rather than write them; that in itself can lead to greater idea generation in a shorter amount of time.
As well, brainstorming in small groups is easy to organize using Zoom breakout rooms. Just make sure to keep the groups small (3-5 people is best), set some ground rules for ideation, and give clear instructions.
What happens when you combine virtual with in-person participants? Opening up your workshop to more people means you can tap into the thinking of a more diverse group. Digital facilitation tools such as Stormz and Howspace can be used by both virtual and in-person participants. Virtual participants can gather in breakout rooms, and in-person participants can gather in small groups around tables. We recommend that three people share one device (e.g., an iPad or laptop) in-person. Both virtual and in-person participants can brainstorm at the same time, and all of their input will be displayed simultaneously on the same platform.
Digital facilitation tools such as these can be used during the meeting and/or asynchronously outside of the live event, effectively providing a common, shared experience for all participants regardless of where they are.
5. Hybrid meetings are flexible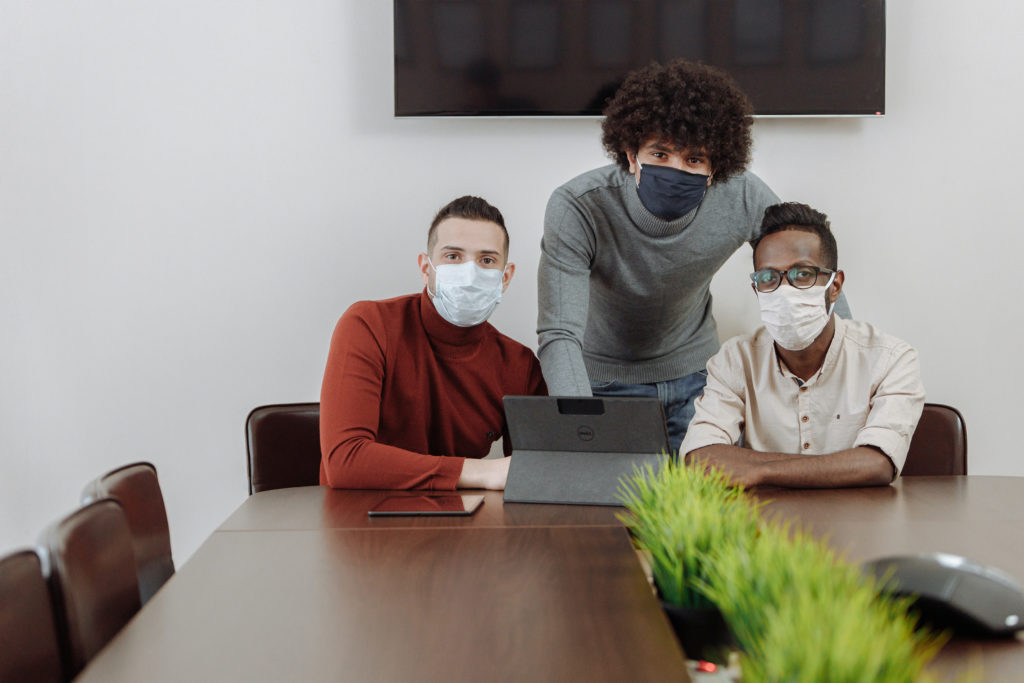 Throughout the pandemic, one thing we've learned is to be flexible. 2020 saw meeting and training organizers switch their programs over to virtual, with great success.
We're also hearing that people are eager to get back together in a physical space, and understandably so. For some of our clients, virtual meetings just can't replace the experience that they hold dear, which usually involves sidebar discussions in hallways and late-night negotiations over drinks in the hotel bar. We get that. We also know how expensive it can be to break a contract with a meeting venue should COVID rear its ugly head again, and we also know how stressful it can be to switch suddenly from in-person to virtual.
One of the key benefits of hybrid meetings is flexibility. By planning for a hybrid event, you are already planning to accommodate in-person AND virtual participants. Should a COVID outbreak derail your in-person plans (e.g., reduced capacity in meeting rooms), you can ask everyone to join virtually; adding extra Zoom space is easy and cheap. If some participants experience a local outbreak and decide not to attend in person, they can switch to virtual. And so on. Conversely, people located in areas where working together in the office is encouraged can choose at the last minute to meet in-person using the company boardroom or a meeting venue.
Such changes are not such a big deal when you are already planning for the event to be hybrid.
Keys to Successful Hybrid Meetings
How can you tap into the benefits of hybrid meetings? Here are some keys to successful hybrid meetings:
Recognize up front that hybrid meetings are complicated. Give yourself and your team a good amount of time to plan your event. Remember how much time you used to dedicate to in-person events? Now that you're adding a virtual component, allow yourself at least the same amount of time.
Professional facilitation is key to smoother events, greater ideation, richer interactions, and optimum engagement. Hire a professional facilitator to assist in designing and facilitating your hybrid event. Each location should have a co-facilitator, and a facilitator should be designated to oversee and direct the activities of all facilitators and attendees.
Clarify the objectives—both in terms of physical and emotional outcomes (the participant experience). Get input from participants by doing some research via interviews and surveys. Understanding the objectives creates buy-in and helps you plan a meeting that achieves those objectives.
Practice—a lot. Build in time for rehearsals with facilitators, speakers, panelists and breakout room moderators. Hold orientation sessions for virtual participants. Distribute a meeting guide that is geared to both in-person and online participants. Insist on testing equipment with A/V technicians at in-person venues.
View the meeting from both the virtual and in-person experience. Think through what the virtual participants will see and hear when they view in-person participants, and vice versa. Consider the camera set-up and angles for the in-person venue, along with the mic set-up. Dedicate a screen in the in-person venue to displaying the images of virtual participants. It's important for inclusivity and participation that all participants can see and hear each other no matter where they are.
If you would like to chat with us about your upcoming hybrid event, contact us.
---
By Laura Bowley, Virtual Facilitator and Meeting Producer, Neolé Inc.