I'm not a big fan of the word INNOVATION. Even though it's central to our company's tagline, I like it less and less every year. The word innovation is alienating. Unless your title includes "innovation," most people don't know what innovation means or how to do it, or they are so critical of it that they avoid it at all costs.
But everyone does know that change is a constant; sometimes it's even necessary. At the very least, everyone knows that there's always room for improvement. Improvements in how we relate to each other, how we communicate, how we learn. Improvements in medicine, improvements in our living space, improvements in how we get from one place to another, and the list goes on.
Your staff have a wealth of knowledge, ideas and opinions that can contribute to creating positive change or improvements. And ultimately, that's what innovation is. Innovation is any type of change that falls along a wide spectrum: on the far side is incremental innovation (any form of gradual change or improvement on what already exists), and on the other far side is radical or revolutionary innovation (the type of change that is completely new or different from what we are already familiar with). You might need either form of innovation or both, but neither will be successful without engaging staff, customers or other stakeholders throughout the process.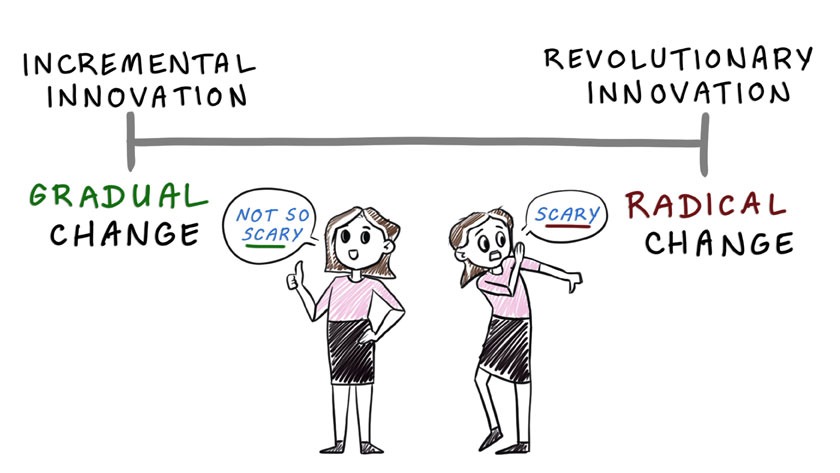 Innovation is really a fancy word for change or improvement. And big changes are always better when you are a part of creating them than when those changes are imposed upon you. By engaging more people in exploring problems with an eye to creating solutions, sharing ideas, experimenting with promising solutions, and learning from each other's mistakes, everyone would be involved in creating positive change and every workplace would be a better place to work. In fact, I believe the whole world could be a better place.
That's why you need join-in and not just buy-in. That's why you need to engage people in creative thinking and not just throw around the word innovation.
Do you need to engage people in creative thinking? Want to chat with me about incremental innovation? Book a call with me or

send me an email

.