Communication does not equal connection. Tools like Email, Zoom and Slack have been integral for connecting remote teams in their professional projects. Unfortunately, they don't address how remote and hybrid teams are struggling with a lack of social connection and how employees are missing the support they need to grow and thrive.
In fact, a survey conducted by Benefits Canada found that only one in six employees feel connected at work. That's unfortunate, because meaningful social connections have a massive impact on employee wellness and performance.
In the same survey, 29% of employees report that they experience a deeper level of trust in their organization as a result of their personal connections at work. Studies have also shown that social connection leads to increased productivity and lower absenteeism.
Understanding this, how do we help foster personal connection and strengthen meaningful connection on remote and hybrid teams?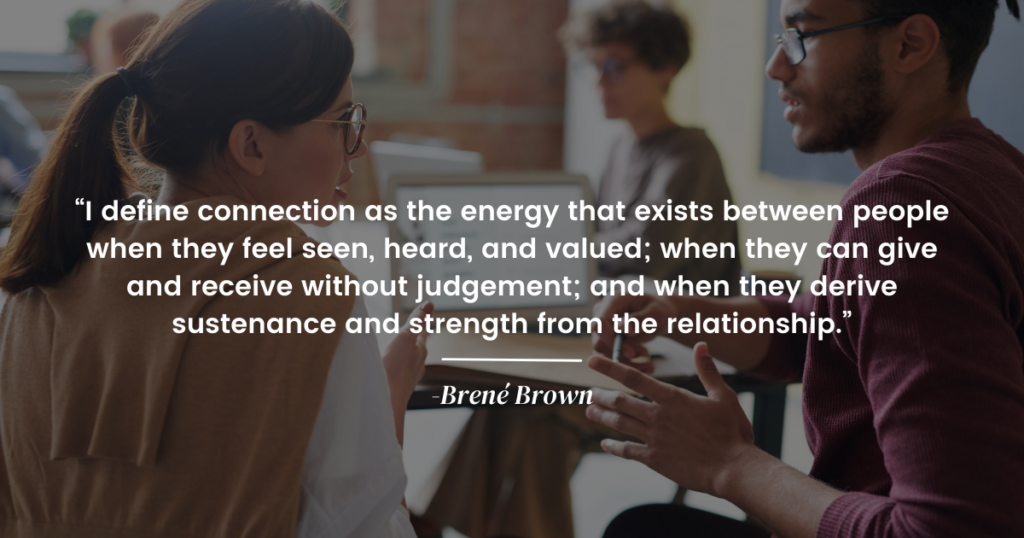 The Pillars of Connection
If you want to encourage stronger social ties between team members there are three pillars of social connection that need your attention. These aspects rely on each other to frame a solid social system that empowers people to feel supported, find happiness, and to be intrinsically motivated to do their best work.
Social Networks

are the people that you are socially connected to.
This shouldn't be confused with the digital platforms that we use to connect to people worldwide. When it comes to the way that your social network impacts your wellbeing, it's important to have a select group of people around you who are supportive of your goals and your values and whom you trust and can rely on.
Social Activity

refers to participation and engagement in events like meeting friends, attending events, volunteering, and participating in group activities.
When you are socially active you take the opportunity to communicate and collaborate, which cultivates valuable and impactful social connections.
Social Support

is the perception of being cared for; it determines whether one feels that they can rely on assistance from people within their network.
Support can come in many forms, both tangible and intangible; these include emotional, instrumental, and informational support.
Showing care and compassion for someone demonstrates emotional support and can help them to cope with their experiences, and feel less alone.
Other moments call for instrumental support in which tangible, action-based support is offered. Whether giving assistance with a task or providing physical resources, this is also referred to as "offering a helping hand."
From advice and feedback to gathering and sharing information, informational support impacts forward movement and decreases task-related stress. Sharing relevant knowledge provides a path to informed progress, and with this type of support the receiver is able to lean on their trusted social network to alleviate the pressure of the job at hand.
Closing the Gap
Supporting social connection for remote teams is a tall order. It's not up to leaders to twist arms and force friendships, but great communication practices can open up opportunities to encourage authentic relationship building on your remote or hybrid team.
Have you considered that meaningful social connections on your team could start with you? Have one-on-one conversations with your team members to get acquainted and build trust; this also gives you the opportunity to gather information that you can use to help connect them with other like-minded team members.
When you understand your team members better, you can connect people together with shared values and interests. This can be applied both professionally, like collaborating on a project that supports their values and goals, or personally such as creating a casual chat channel to discuss hobbies and passions.
Speaking of which, chat channels for remote teams have plenty of applications for social connection. Create channels to celebrate wins, share opportunities for learning, or even just to do daily check-ins. They can also be used to share interesting articles, new tech, and best practices.
Having a balance of channels for professional and casual discussions offers the watercooler experience we no longer have as remote workers. It gives the opportunity to easily step away and reset through informal topics and one-off conversations.
One study shows that it takes seven months to build trust, so patience is vital while building the foundations of your team relationships – especially with new team members.
Face It…
…when it comes to social connections, nothing beats face-to-face time. It's been estimated that 55% of communication is nonverbal, coming from our body language and facial expressions.
Scheduling regular video chats can help, but most remote companies do host some sort of in-person meet at least once a year. This offers invaluable time to work side-by-side. In fact, 34% of employees shared that they have had their most creative ideas on business trips and 73% of corporate travelers feel that face-to-face meetings are more effective than online communications.
If you need help connecting your hybrid or remote team, look no further. At Neolé we have a team of experts ready to facilitate conversations that turn disconnected remote teams into happy, healthy high performing teams…and we even plan amazing retreats! Contact us today to book a Discovery Call.
---
By Crystal Morris, Digital Marketing & Virtual Office Coordinator, Neolé Inc.