You've got a team retreat coming up soon. It's the first time your team has come together in a long time and you'd like your team building activities to be fun and engaging while also improving team dynamics, trust and collaboration. You want to make the most out of your time together, so what are the best team building activities for building trust and collaboration?
How do team building activities improve trust and collaboration?
Trust is one of the most important factors that contribute to successful team collaboration. Teams have a certain amount of tacit trust between members; they trust that team members have the necessary skills and experience to do the job, and that the team leader has recruited the right people to the team. However, building the level of trust required for successful collaboration means leaders must be intentional about giving the team time and space to develop deeper relationships.
Team building activities provide opportunities for team members to communicate, bond, and work together towards common goals. When team members engage in fun, interactive activities, they are able to build relationships and get to know each other on a personal level–the level where trust develops.
Moreover, team building activities can help to build a shared sense of purpose and identity among team members. Having a shared sense of purpose–a common goal and dedication to the mission–is another critical success factor. When team members work together towards a common goal, they develop a sense of pride and ownership in their work, which can drive greater collaboration and teamwork.
Collaboration doesn't need to take place in-person for it to be successful. However, building relationships and trust do benefit from spending some time together. The best way to spend focused time together as a team is with a team retreat or offsite.
Ideas for team building activities that improve collaboration
The best team building activities for collaboration focus on building relationships and trust. It's important to find activities that are fun, interactive, and that allow team members to work together towards a common goal. That said, it's even more important is to ensure every team building activity is followed by a debrief session where team members are invited to reflect on the lessons learned and how to bring those lessons to life in the day to day work.
Team building activities also provide opportunities for team members to practice and develop key collaboration skills, such as problem-solving, decision-making, and teamwork. When team members work together to solve challenges or complete tasks, they learn to rely on each other and support one another, which can improve overall collaboration.
Here are some ideas for team building activities that focus on building relationships and trust and sharing a common goal. These activities are fun and interactive, making them great activities for a team retreat.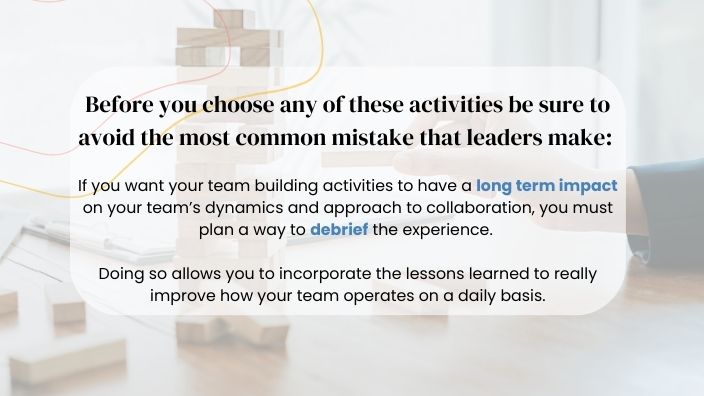 Escape Room Challenge: Teams work together to solve puzzles and escape from a room within a set time limit. This activity promotes problem-solving, communication, decision-making and teamwork skills. Your team can visit an escape room or you can purchase an escape room kit to use at your team retreat.
Cooking Challenge: Teams compete to prepare a meal using a set of ingredients, cooking up some teamwork, creativity, and problem-solving as they go. Try out a Master Chef challenge at your next retreat! This is a great activity for remote teams; team members located close to each other can gather at a team member's home to use their kitchen, joining the bigger team via Zoom!
Scavenger Hunt: Teams work together to complete a scavenger hunt, either at your retreat centre or out in the community. This activity promotes communication, problem-solving, and teamwork, and is a whole lot of fun.
Volunteer Work: Teams can volunteer together at a local charity or community organization. What's interesting about this activity is that it can be an activity at a retreat where the team goes out into the local community to volunteer, or it can be an ongoing activity throughout the year. This would take some research to find a local charity that would be open to having your team drop in, or a charity that is national or international and would be open to remote team members volunteering. Volunteer work as a team promotes teamwork and builds a sense of shared purpose and responsibility.
Outdoor Adventure: Look for outdoor adventures that require people to work together. Some ideas are rock climbing, hiking, or kayaking. This activity promotes teamwork, communication, and problem-solving.
Brainstorming and Planning Session: Teams work together to brainstorm and plan a project or event. This activity promotes communication, problem-solving, and teamwork. You could do a brainstorming and planning session to coordinate a volunteer activity for the team!
Game Night: Teams can participate in a game night together, either at the retreat or a local venue. This activity promotes fun, relaxation, and allows team members to bond through shared experience.
Team Building Activities with Lasting Impact on Your Team
While the above team building activities will benefit your team in the long run and are great activities for team retreats, doing real work together and engaging in structured sessions that give team members insight into how they operate–both themselves and others–will have a lasting impact and improve your team collaboration across multiple areas.
We recommend three facilitated activities in particular:
The Innovative Team Mindset: Using the innovation tool FourSight, team members learn about their own thinking style and become aware of their team's psychological diversity. What does that mean? Much like some people prefer to use their left or right hand, people have preferences for how they exercise their thinking muscles. These preferences impact how people approach problem solving and collaboration. Understanding your own preferences helps you to get unstuck when it comes to brainstorming and solving challenges, while understanding the preferences of the people on your team will explain how each best contributes to the team and collaboration. Team members will also develop the thinking skills necessary to innovate and collaborate as creative problem-solvers. Participants walk away with their personalized FourSight self-assessment and a Team Report for future reference. An expanded version of this workshop takes teams through an example of solving a problem together with their newfound awareness and a special creativity toolkit developed by FourSight. This workshop is facilitated by certified FourSight facilitators like Neolé. For this and other team development workshops offered by Neolé, visit our team development page.
Team Charter: If your team is still figuring out how to work together, a Team Charter Workshop starts the important conversation about hybrid and remote workplace arrangements and creates understanding between team members and leaders. During this interactive workshop, participants define their team values and brainstorm their priorities for how they will work together in a remote or hybrid workplace. Their consensus decisions are recorded in a Team Charter, a living document shared by the team and which is revisited regularly.
Playmobil Pro: Playmobil Pro is a team building activity utilizing the iconic Playmobil toys to facilitate collaboration and problem-solving skills among team members. The activity involves team members working together to build structures and solve challenges using the Playmobil toys, with the goal of promoting teamwork and communication. By engaging in hands-on, creative problem-solving, team members are able to develop stronger working relationships. Playmobil Pro has been found to be particularly effective in promoting collaboration among diverse team members, as it provides a fun and lighthearted environment in which everyone can participate and contribute (the Neolé team can attest to how much fun this is!). The impact of Playmobil Pro on collaboration is significant, as it provides a unique and engaging way for team members to build relationships, improve communication, and work together towards common goals.
The relationship between team wellbeing and collaboration
It's no coincidence that many of the team building activities that improve collaboration also impact wellbeing. Wellbeing can be thought of much more broadly than mental and physical health to include social connection and intrinsic factors such as the ability to be creative, contribute and have meaning and purpose. If these sound familiar, that's because they are also success factors for collaboration. A healthy team is a team that is great at collaboration as well.
Many–if not all–of the activities suggested in this article contribute in some way to your team's wellbeing. To maximize the impact of your team building activities, look for activities that double up on wellbeing and collaboration. Spending time in nature with outdoor activities, a games night for social connection, volunteer work that aligns with meaning and purpose, all contribute to your team's wellbeing.
What's Next?
We have many ideas for how team building activities can improve your team's ability to develop strong relationships and improve collaboration – in addition to the activities we've suggested here.
Neolé can work with you to understand your team's particular context and needs. Examples of this might be the need to integrate new team members hired remotely or the need to bring a team together in person to build relationships that have suffered during the pandemic. Once we understand your needs, we can then recommend the best team building activities for your team, and create customized activities for your retreat.
Neolé retreats are customized to your needs and provide long-term value. Our retreats build relationships, boost connection and engagement, and leave everyone feeling excited to get back to work.
Ready to investigate some team building options? Contact us for a no-strings-attached consultation.
---
By Laura Bowley, Chief of Opportunity, Neolé Inc.